Sleep Under The Stars
– All Year Round
Experience the Lolland countryside and enjoy views of the surrounding landscape from the luxury of your bed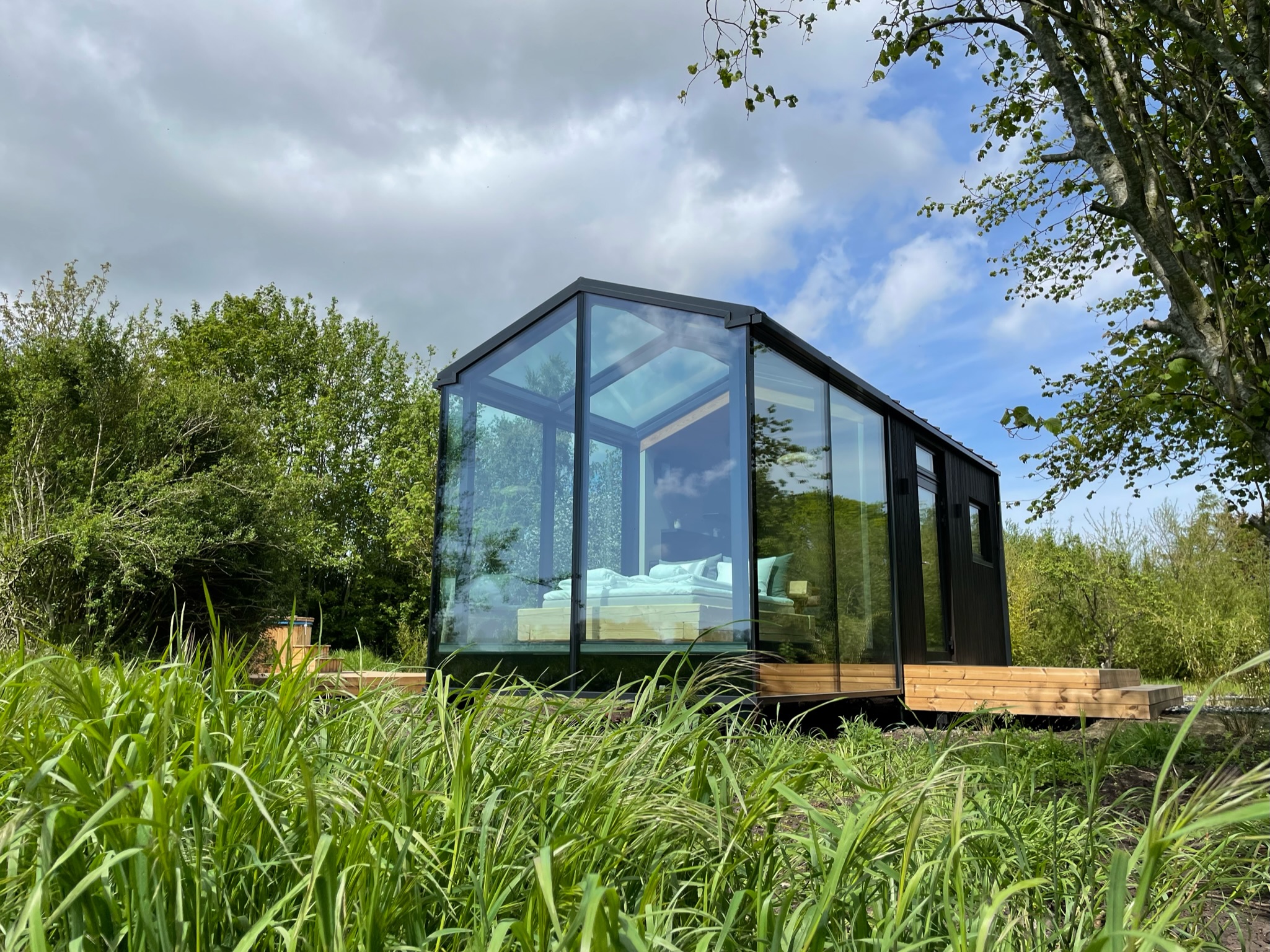 Sleep under the stars
– All year round
Experience the Lolland countryside and enjoy views of the surrounding landscape from the luxury of your bed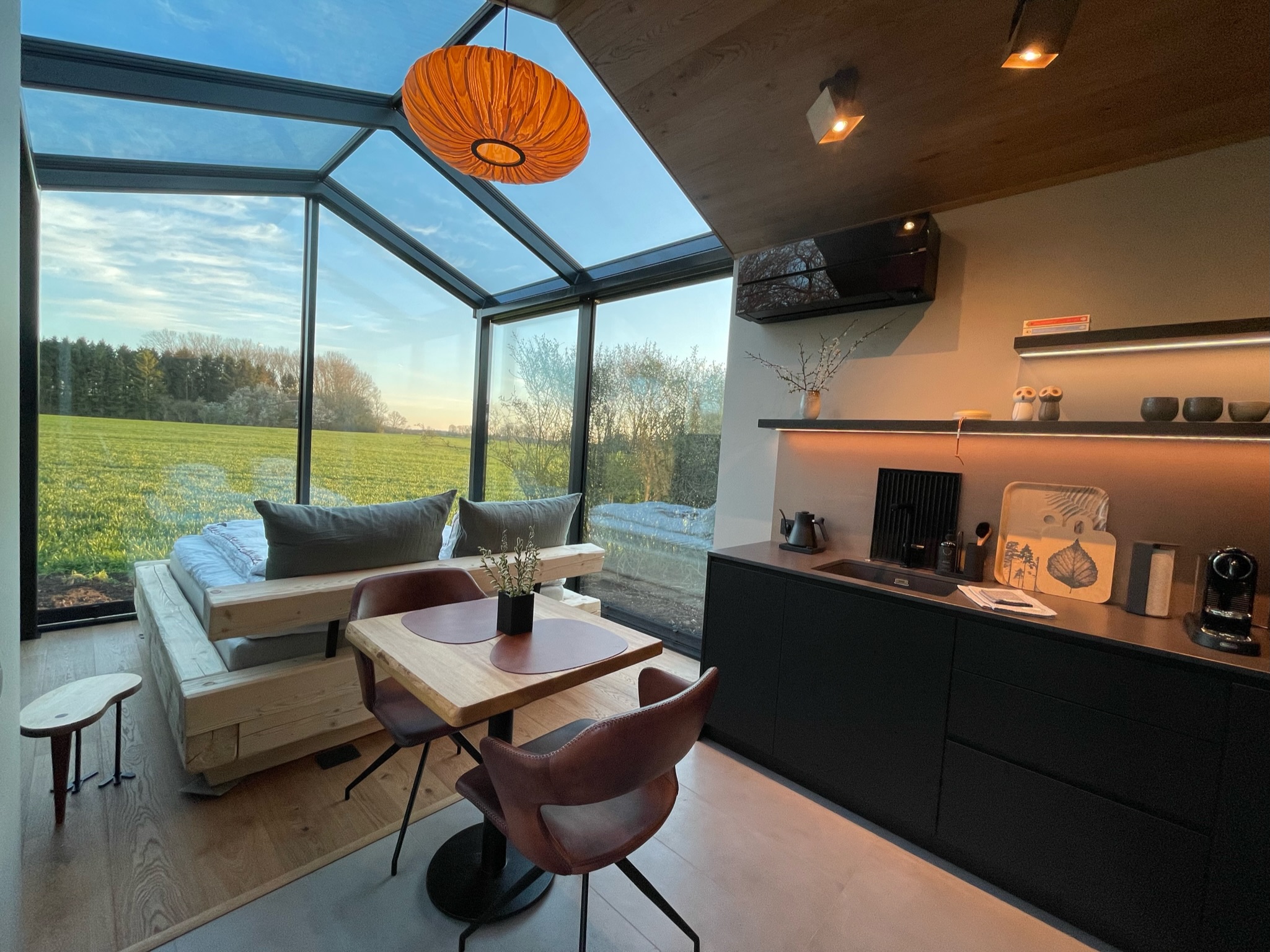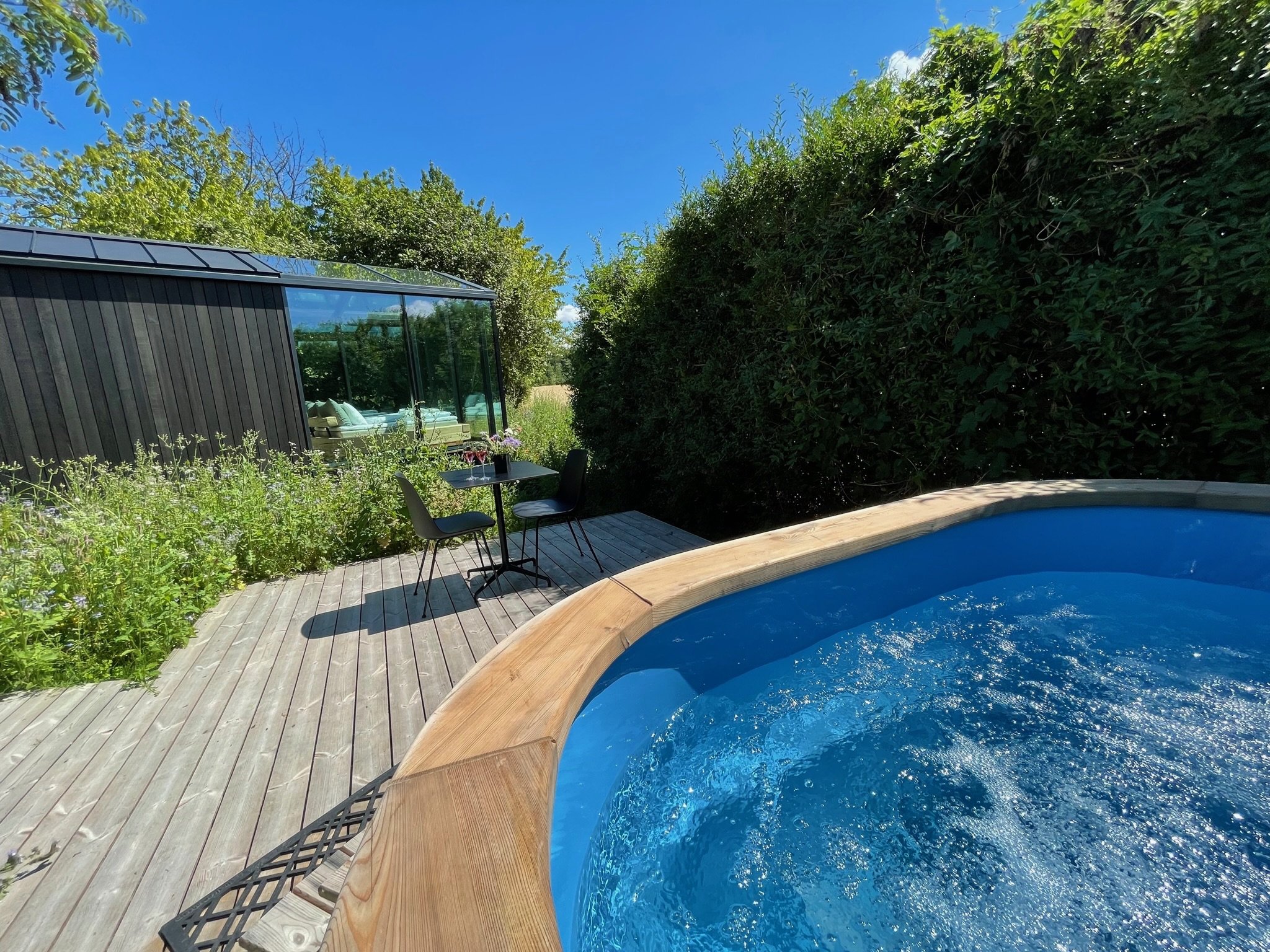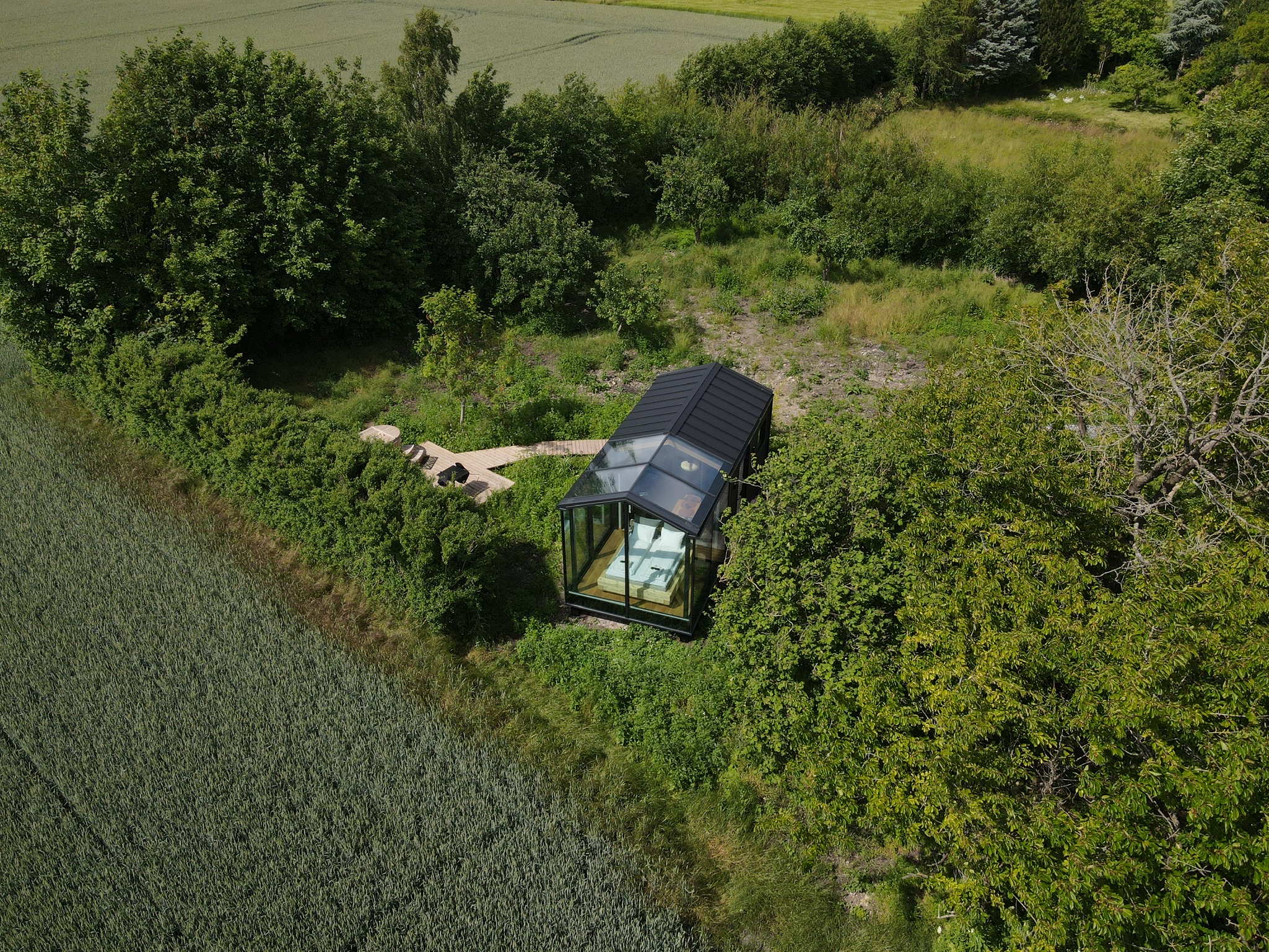 The Glass Hut
The Glass Hut will be your exclusive home away from home.
The Glass Hut is built using carefully selected materials and stylish décor to enhance your stay.
Relax under the stars in your outdoor jacuzzi or connect with nature from your personal wooden terrace.
Wake up to the sights and sounds of the forest just outside your window, where the natural landscape invites you to encounter wildlife and explore the great outdoors.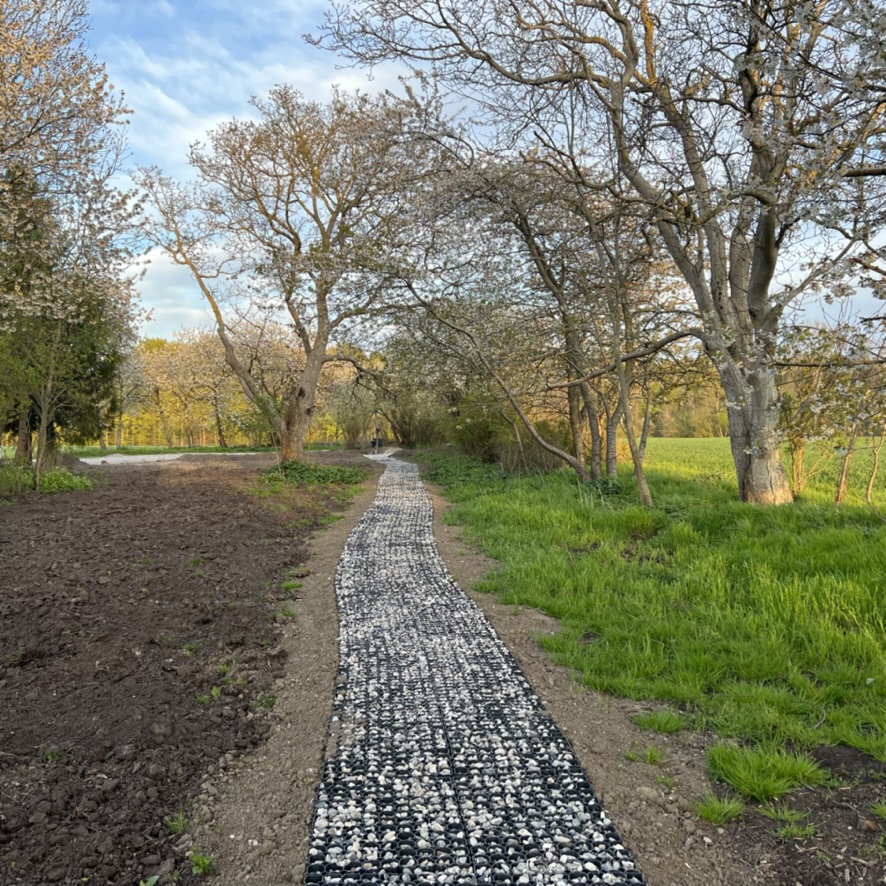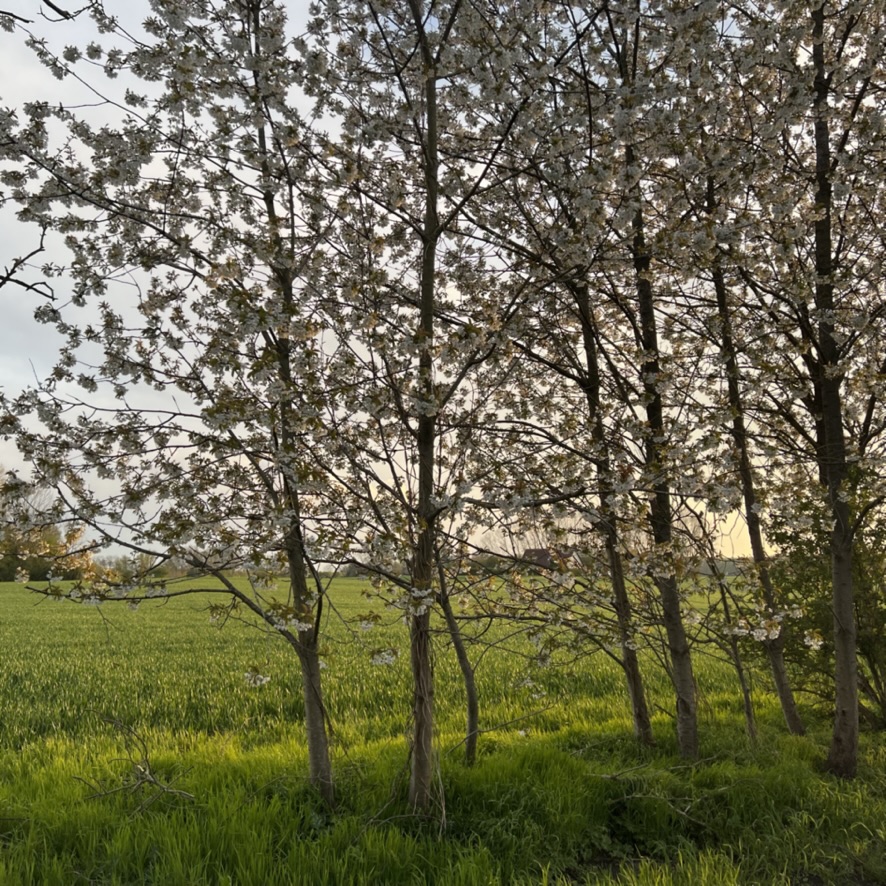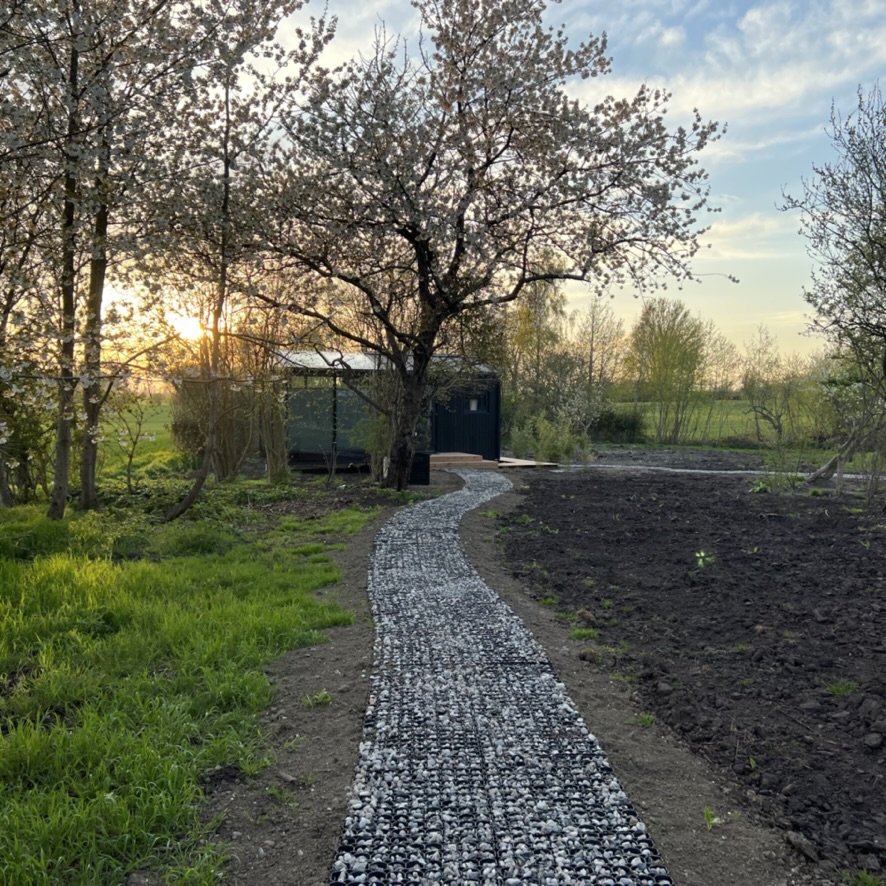 What have previous guests said?
A unique and extremely relaxing experience. You have a feeling of total privacy in a natural landscape as well as luxurious amenities and Danish high quality standards. I'm looking forward to my next visit already!
Mai, England
What a place! Peace and quiet only interrupted by the activity of the local pheasants on the nearby land with unobstructed views of forests and fields. As a guest, you have the whole area to yourself. As for cleaning, we have never stayed in a cleaner place. Wonderful breakfast with good bread and a fine selection of local delicacies. If you're dreaming of a unique getaway close to nature, without compromising on comfort, The Glass Hut is highly recommended.
Anders, Kolding
Thank you very much for letting us stay in your super lovely house, and for the lovely weather we experienced. The Glass Hut is a lovely hidden gem you created. Attention has been paid to the smallest detail. Certainly not the last time we'll be visiting!
Lone og Jan, Hirtshals
Fabulous stay in The Glass Hut over the last 24 hours. We've been wowed from start to finish. It's truly like living in the coolest luxury house – in the middle of nature. Every detail has been taken care of and we have enjoyed it all. The tranquility, nature, visits from the pheasants, the outdoor jacuzzi – everything! To wake up and look out over the field, then enjoy the super delicious breakfast with products from local producers. What an experience. Lolland has really got a new gem. We will definitely come again. Thank you very much 🙏
Rikke, Islands Brygge
The Glass Hut is a fantastic respite from busy everyday life. Every detail has really been thought through. We enjoyed the view and the tranquility – and of course a stunning experience under the stars with only the sounds of nature. Lovely breakfast and easy check-in and check-out. Highly recommend a couple of nights in The Glass Hut!
Steven, Frederiksberg
The Glass Hut completely lives up to expectations – new, delicious, well thought out. The outdoor jacuzzi under the stars at midnight was a very special experience we will not forget.
Anne Sofie, København SV
Had an amazing stay with my boyfriend. The Glass Hut is designed with an eye for details, and is the perfect space for a romantic and unique getaway. An experience we will never forget!
Simone, København
Staying at The Glass Hut was an experience that cannot be compared to anything else we have tried before. Surrounded by amazing nature it is the perfect place to relax, take long walks and enjoy each other's company.
I highly recommend you to try it! The place was very clean and had amazing and clever details in the design. You could tell that a lot of thought has gone into the place.
We already look forward to our next visit and to see it during a cold winter day.
Kasia og Thomas, Charlottenlund
The Glass Hut is the best combination of nature and luxury we have ever experienced. Remarkable design and surroundings. We are looking forward to experiencing all four season from the hut.
Mads, København
An amazing stay in beautiful Lolland, Denmark. We arrived in the afternoon and everything was an absolutely fantastic experience. From arrival to departure we felt 100% relaxed as all was taken care of. The facilities such as the open air jacuzzi and the high-end quality glass hut made our stay remarkable. We spent a nice Summer evening there and will look forward to trying it out during the cold Winter.
Henrik og Maria, Snekkersten
We had a fantastic stay in The Glass Huts and would definitely recommend it to others 🙂 Everything is lovely and picturesque, just like in the pictures. It's great to be able to use the outdoor jacuzzi. Michael and Hoa have made sure that everything is explained in a small folder in the cabin, and should you have any questions, they are quick to answer, such as via SMS. We were very happy with our experience in The Glass Huts! 🙂
Malene and Mikael, Copenhagen
Amazing experience! Michael and Hoa provided excellent service and were very accommodating. The stay was exceptional and made us feel totally relaxed. We highly recommend!
Julie, Aarhus
We arrived at the beautiful Glass Hut in the stunning natural landscape of Lolland.
The Glass Hut exceeded all expectations and everything was well thought-out down to the last detail. Everything was also described well in the info booklet, if you had any doubts about anything.
The jacuzzi was just right and really nice, we went in slightly cloudy weather and 15 degrees, it was absolutely perfect 🍹
We had the best service throughout the entire experience, even before arriving at The Glass Hut😍
This is definitely not the last time we'll stay at The Glass Hut!
It is definitely worth a visit☀
Celina, Køge
My husband and I have just spent the night in The Glass Huts – a completely unique concept. It's luxury from the moment you arrive until you leave. The Glass Huts is luxuriously furnished and is located in the most beautiful surroundings, which you can enjoy during the day or lie in bed and look directly up at the starry sky at night. There is an outdoor jacuzzi next to The Glass Huts and when you wake up in the morning everything has been pre-prepared so that you can make the most wonderful breakfast and enjoy it in complete peace. We charged our car while we stayed in The Glass Hut, so we are now ready to continue our drive. We will visit again – that's for sure!
Charlotte, Lynge
The Glass Huts is everything you could wish for and is the perfect getaway. You can really feel the love and passion Michael and Hoa have put into this – it's in the details – they have simply thought of everything. You just have to enjoy and relax. The breakfast is wonderful and easy to prepare. In the evening we visited Den Grønne Verden which was also an amazing place. We only wished we had more nights.
Maj, Amager
It was a fantastic and calming experience to spend a night in The Glass Huts. Everything was already taken care of by Michael, so that we as guests were never in doubt about anything. The Glass Hut itself was extremely luxurious – just like in the pictures. The jacuzzi is also very easy to operate! Absolute top marks from us! 🙂
Jacob, Copenhagen
We have just left The Glass Huts and want to say THANKS for a fantastic overnight stay! What a little diamond you've created in such a beautiful setting. Every tiny detail has been thought of, such as the drinks in the fridge, the speaker and the small nametags on drawers, cupboards and switches. You are well looked-after during the entire stay- what a great little guide that has been put together! Easy to understand with pictures and explanations. Everything is SO well done!
The breakfast was delicious and there was plenty of it! We will undoubtedly recommend this experience to all of our friends.
We have enjoyed it to the fullest and have rarely felt as pampered and lucky as during the last 24 hours. THANK YOU!
Julie, Holstebro
The Location
The Glass Hut is hidden in the Lolland Alps, where you will get to experience first-hand views of the uniquely green and beautiful landscape of Vestlolland.
An array of experiences await you, from cycling to hiking.
Whether you prefer to enjoy it slowly on a gentle hike, or encounter the adrenaline rush of mountain biking through the hills.
Facilities
Double Bed
Breakfast Included
Outdoor Jacuzzi
Forest View
Nespresso Machine
Combi-Oven
Electric Kettle
Mini Fridge
Shower
Toilet
Hairdryer
Bed Linen, Towels & Bathrobes
Air-Conditioning
Underfloor Heating
Parking &
EV Charging
Wi-Fi